... Or Merry 2 days AFTER Christmas. :)
And the angel answered her, "The Holy Spirit will come upon you, and the power of the Most High will overshadow you; therefore the child to be born will be called holy–the Son of God.
Luke 1:35

For God so loved the world,
that He gave His only begotten Son,
that whosoever believe in Him
should not perish but have everlasting life.
John 3:16



Kurt is playing his new Madden 2010 xbox game, and I'm laying on the couch - finally allowing ourselves to relax after running around like chickens with our heads cut off for the last couple of days!
Although Christmas was different than we had been expecting it to be (My due date is in 3 days, so we both had assumed that I'd either be HUGELY Pregnant on Christmas, we'd be in th hopital, or we'd have a brand new baby at home with us), but we were SO blessed to have such an amazing holiday with family. We're fortunate to still live in the city as both of our parents and siblings... it's nice to be able to spend holidays with both sides and not have to travel! MANY families had to cancel or postpone their Christmas celebrations because of the ridiculous blizzard conditions, I'm so glad we didn't have to!

On Christmas Eve, the snow started.... and never stopped! We were so lucky to be able to get to church. Many other churches cancelled their Christmas Eve AND Christmas Day services because of the weather - ours cancelled all but one! I'm so glad we were able to go... it definitely wouldn't have felt like Christmas if we'd had to miss it.

It was a very busy Christmas for us! After church on Christmas Eve, we went back to Kurt's parents' house to eat and open gifts. Then it was on to my Grandma's to open gifts and spend time with my Mom's side of the family. On the way home, we got the jeep stuck in the snow at the entrance to our complex! Kurt tried so hard to get it out, we even walked to the apartment to change into snow clothes, and had his mom drive out to give us shovels! Nothing worked, so luckily a truck with a snow plow passed us and pulled us out with a chain. When we finally got inside, Kurt and I exchanged gifts. We went to Christmas morning at my parents' house and opened gifts. Then back to the Miller's for dinner. In the evening, we returned to my parents' house for dinner #2! Kurt worked over night, slept all day, and then had to go BACK to work again for an evening shift! While he worked, I went over to my Aunt Allisons for Christmas with my Dad's side of the family. I went back to my parents house, and Kurt picked me up on his way home from work.

Kurt and I gave each other meaningful gifts this year. He gave me a beautiful ring and necklace set with Olivia's birthstone. He actually bought it for me when we were at the mall trying to find something to wear to her funeral (not a very fun shopping trip). He let me wear the ring right away, but made me wait until Christmas for the necklace. I gave him a keychain, engraved with "daddy" on one side, and the otherside said "Daddy's tiny angel", Olivia's name, birth date, and weight. I couldn't wait to give it to him, so he opened it a couple of weeks ago.

We also received some amazing "Olivia" gifts from our parents. Kurt's mom and dad named a star for Olivia. I almost started crying when Kurt unwrapped the framed certificate. I love knowing that she'll have something named for her that will exist in the universe forever. My dad gave us a beautiful ornament for our Christmas tree. It's a pink prism, in the shape of a star. There's a story behind it - when I was little, he and I would sit on the front porch all the time, looking at the stars. I asked him where they came from, and he told me that when someone dies, God puts a star in the sky for their families to remember them by. I had him point out my Grandpa's star and my sister, Katie's. It's one of my favorite memories that I have with my dad. He wrote a beautiful letter to go along with the ornament, explaining that we now have our own "star" in the sky to bring us comfort. Of course, I cried when I read it! Isn't it amazing how well these gifts go together? It's almost like our parents got together and coordinated.

Aren't we lucky to have such amazing, supportive families? I don't know how we would have gotten through this past month without them. We are truly blessed. Words cannot express how grateful we are to them.

Kurt and I gave "I ♥ Grandpa" and "I ♥ Grandma" frames for both sets of grandparents. Pictures go in each of the letters, so each frame is filled with nine pictures of Livie. Our parents really seemed to love them. It felt so good to actually give something meaningful for Christmas this year. I was more excited for them to open these than I was to see any of my own presents. A much better feeling than just picking something up at Target. Hopefully we'll be able to come up with something creative to give next year!

I don't have the Christmas pictures from our camera uploaded yet... but here's some pictures that I took a couple of weeks ago of our apartment all decorated for the holidays! Also, there are pictures of some of our special "Olivia" ornaments.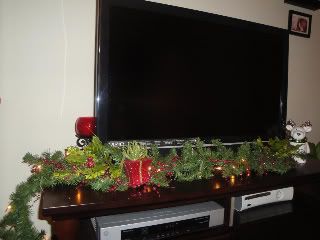 Christmas garland, picks, beads and lights on our TV stand... since we don't have a mantle in this tiny apartment :)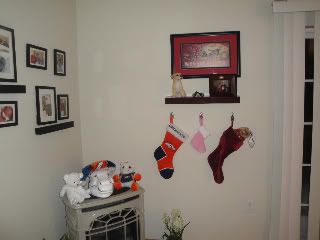 Our weird heater thing with Olivia's angel bear that plays silent night, and Kurt's bronco stuff (notice the stocking hat, haha). And, our stockings. We bought the little pink one for Olivia a couple of weeks ago. It didn't feel right to hang out little "family" of stockings without having one for her up there too.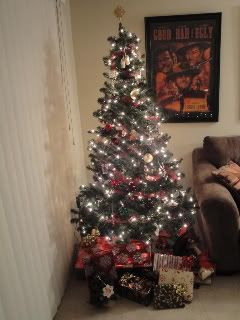 Our *first* Christmas tree!!
It's a little hard to see, but we took that tiny Christmas tree down on the floor in front of the presents to the Cemetary for Olivia about a week ago. It has a pink snowflake "Baby's first Christmas" ornament on it. Luckily, we got there before the snow storm!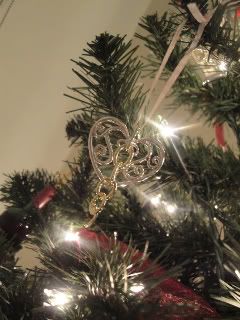 The Broken Chain
We little knew that morning that


God was going to call your name.




In life we loved you dearly.




In death we do the same.




It broke our hearts to lose you.




You did not go alone,




for part of us went with you


the day God called you home.
You left us peaceful memories.


Your love is still our guide.




And though we cannot see you,




you are always at our side.




Our family chain is broken




and nothing seems the same,


but as God calls us one by one,
the Chain will link again.

This poem came with a beautiful ornament that my mom bought us at parables - she brought it over to our apartment the day we came home from the hospital. It's amazing how the smallest gifts can mean so much! I don't know if it's very visible in this picture since it's so small, but he bottom link of the chain is broken off.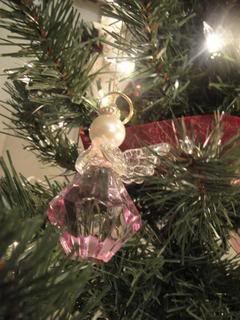 Kurt and I bought this one ourselves from Parables when we were Christmas shopping. It looks even prettier in person - the angel's head is a pearl and the wings are glass. She REALLY sparkles in the light.

I don't want to bombard everyone with pictures of ornaments, but we have a few other special family ornaments: A "Future Mr. and Mrs., 2009" Lennox, a Snow Baby one that's an angel sitting inside of a Christmas present, and says "gift from god" on it. We also have an angel frame ornament with Olivia's picture inside of it, and a pair of porcelain Hallmark baby shoes that we got from my parents while we were in the hospital, right after Livie was born. These will hang at the very top of our tree every year! At some point I'll have to stop myself from buying new ones all the time. I'll post pictures of the special ones we got FOR Christmas when I get around to uploading them :)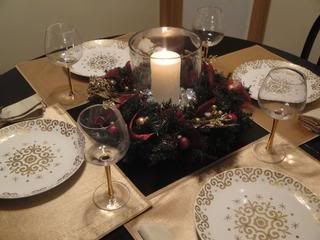 Our pretty table with a centerpiece I made and new Christmas dishes!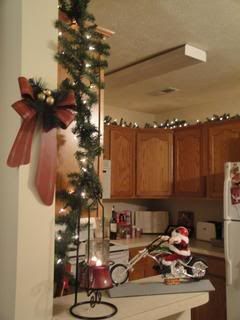 Garland in the Kitchen... and last but not least, what Christmas house would be complete, without Santa on a chopper? (2 guesses of who bought THAT decoration! haha).






Merry Belated Christmas everyone! I don't know that we would have been able to make it through this Holiday season as well as we did without the love and support that we've received from each of you. We are blessed in many ways.