Last night, I packed up the majority of Olivia's room. Kurt had the day off and said that he was going to spend most of it packing, so I asked him if he would just leave her room for me to take care of. He kind of laughed and said he wouldn't dream of touching it because he knew how particular I would be about how to pack her things.
I did pretty well, honestly. I thought it was going to be really hard for me, but I took my camera in there with me. Anytime I got to something special or meaningful that I thought would be hard for me to put into a box, I took a picture of it. I ended up going a little crazy and took way more pictures than I'll ever be able to do anything with, but oh well. It felt good, and that's all that matters right? Here are just a few of them.
My mom bought this little elephant for Olivia when we were shopping at
Babies R Us. It sings "Your Are My Sunshine" in the sweetest little voice.
It matches her bedding perfectly. When we came home from the hospital,
Kurt put the little hair cover that he had to wear during my c-section on it's
head. I can't bring myself to take it off! He used to sit on her dresser.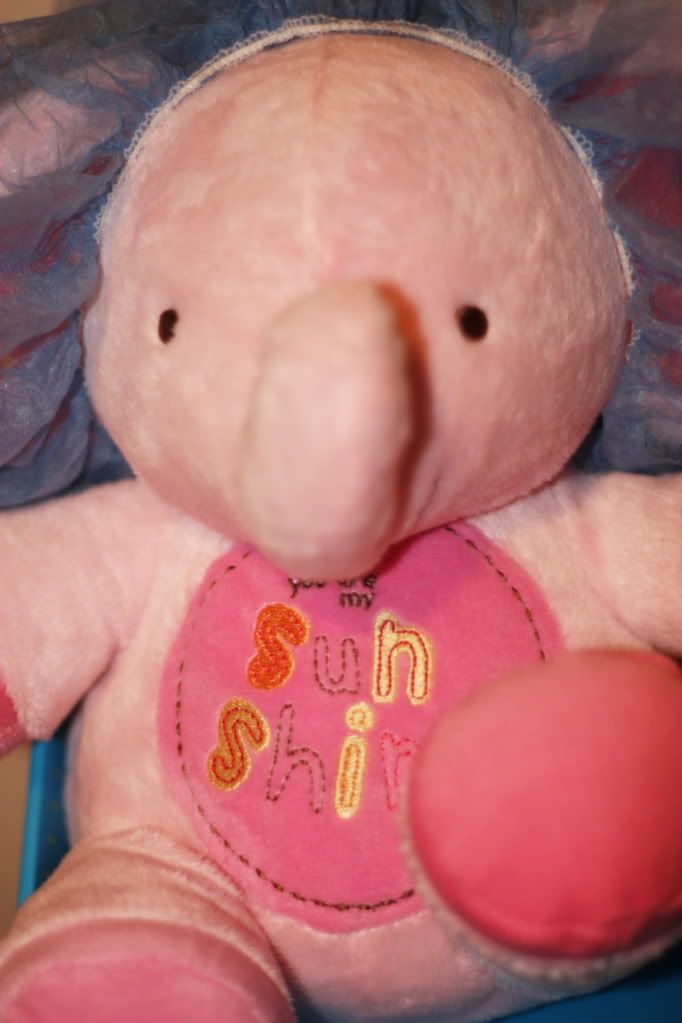 The butterfly letters I painted for above her crib. I've posted the
pictures of these before. I just love them.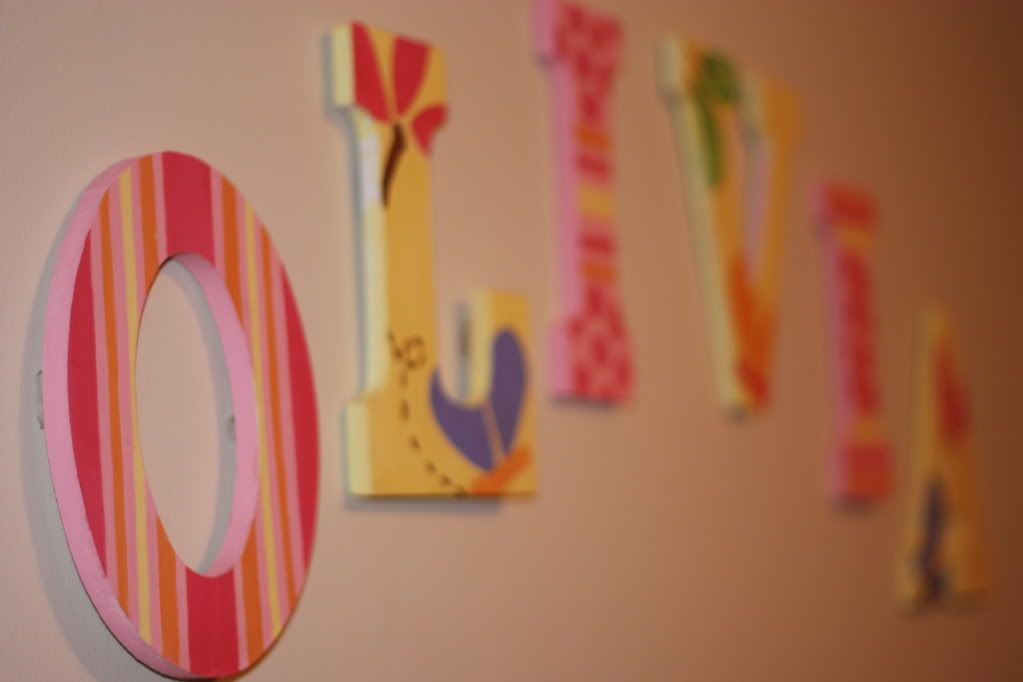 Livie's sweet bedding. I seriously can't get enough of it. It makes me sad that it's packed into a tub now and we probably won't use it again. I picked it out after I knew we were having a girl, and after I knew her name was Olivia. I feel like I picked it out just for her, and I don't feel right re-using it for our next girl (if we have one). I guess I just think our future daughter deserves to have as much love and care put into her bedroom as Olivia had. Plus, if we have a girl she will be using TONS of Olivia'sstuff. I'm sure we'll be able to spring for a new bedding set. Haha.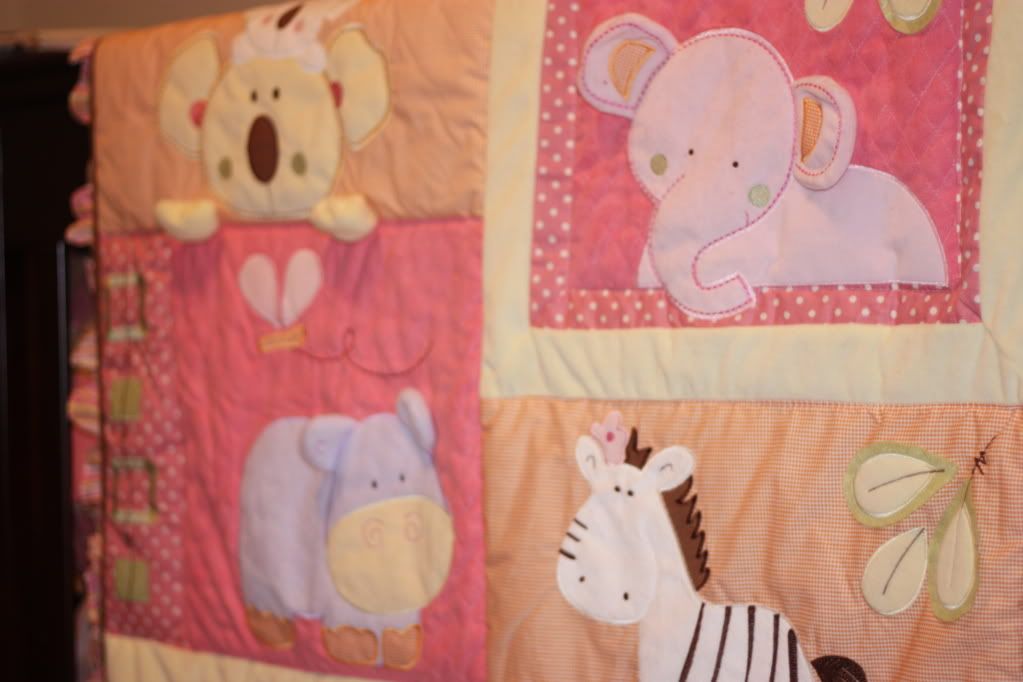 Like I said, I did pretty well! I didn't shed a tear while I packed up the things that I thought would upset me the most (pictured above). Then, I began packing up the basked of books that sat on the floor next to her room. I was putting them all in a big plastic tub (I love to read and especially love childrens' books so I had accumulated LOTS over those 8 months), and I got to the bottom of the basket, to one of my favorites. Tickle Monster. I bought that book at Von Maur, sometime during the pregnancy, mostly just because I thought it was adorable. It's about the Tickle Monster, and each page he tickles this little monster in a different spot. The idea is that you're supposed to read it to your kids and tickle them wherever the Tickle Monster is tickling the little monster. They actually sell it with this mit/glove thing that looks just like his hand that you can wear while you do it (I thought that part was weird and didn't buy it, haha).
I read that book to Olivia while I was pregnant. So many times. I have a book called "Bonding Before Birth", and it recommended that you read and sing to your baby during the pregnancy. So, while Kurt was working nights, I would sit on the bed and we would listen to music, and I would read to her. I would rub my tummy whenever the Tickle Monster would tell me to tickle. It was especially fun to do when she was kicking or moving around. I would imagine that she was squirming like she would be one day as a little toddler being tickled by her mama.
Upon seeing that book, I burst into tears. I think packing up her room was affecting me emotionally more than I thought it was, and I just let it all out. Seeing that book made me think about (as if I needed another reminder) all the things that we thought we were going to get to do with her that we're missing out on. I felt so angry. Still, I couldn't bring myself to pack it up with all the other books, so I put it in the pile of things to go into her memory box. I had to leave the room for a little while to pull myself together, so I came out to the couch and posted on a forum about the book. [The forum is for pregnancy loss and has gotten me through a lot of tough times, but that's another story for another post :]. Then I went back into her room, and continued packing.
Tonight, I was checking some of the blogs that I read regularly. To my surprise, my new friend Meredith (who I posted about before), had written a whole post about that little message that I posted about the book. She bought the same book while she was pregnant with her sweet little one, and read it out loud to her also. Ironically, she was working on some things and came across her copy last night too. She ended her post with this quote, from the last page of the book...
"Now please don't worry and please don't fret, because TICKLE MONSTER isn't done with you yet. Here's one more thing before I must go... I love you so much, I want you to know!"
That says it all. I'm not done with her yet. I love her so much, and I want her to know that I'm not done... I will never forget her, I will always be her mama and she will always be my baby.
Thank you, Mer, for posting that and making me see everything in a whole different light. I needed that post more than she could have known. I have been working EXTREMELY hard at trying to make this as positive of an experience as possible, with as little anger as possible. I was letting the anger get the best of me last night, and Meredith's post saved me from that. :)
Click here to check out Meredith's amazing blog.